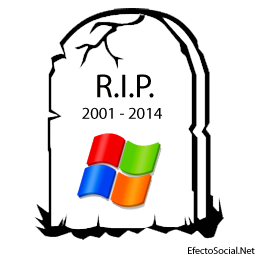 On April 8, 2014, Microsoft will officially end support for Windows XP.
So what does that mean exactly? Does XP turn into the technical equivalent of Cinderella's pumpkin coach and stop working?
"This means that customers and partners will no longer receive security updates to the operating system or be able to leverage tech support from Microsoft after this time," Microsoft's Erwin Visser writes in a recent post to the Windows for Your Business blog. Clearly, you need to upgrade to Windows 8. Or at least Windows 7.
Not biting?
Are you suggesting that your workforce isn't modern enough for Windows 8 or Windows 7? How about with a price cut?
It's not much, but Microsoft's Get Modern site offers a few deals to small and medium-sized businesses, including 15 percent off to those that purchase both Windows 8 Pro and Office Standard 2013 together. (Good for up to 100 licenses, through June 2013.) A handful of HP and Dell portable computers are also on sale.
I'm not sure that's going to make much difference. Anyone sitting on Windows XP today is there for a reason, and one has to imagine that all the low-hanging fruit in the migration space has been snagged over the past three years. Companies such as Browsium offer solutions for some common XP migration hassles, and big Microsoft partners including Dell can tackle jobs of just about any size. But it's interesting to watch such a huge number of companies and users simply stop and stay put.
Windows XP, ultimately, is about the dark side of success, about what happens when something is so popular—or, at least "used"—that not using it becomes too difficult to even consider. Part of the reason isn't so much the quality of XP as it was the huge delay in getting XP's successor, Windows Vista, out the door. Announced to great acclaim as "Longhorn," the eventual release of this product bore no relation to the promises, and the long delays (and, later, Vista's high-end hardware requirements) caused Microsoft to keep extending XP's life cycle. Nice Catch-22, that.
What does the death of XP mean to you or your business?  Well, that depends.  If your business is one that is bound by compliance standards like HIPAA, SOX and FINRA then you'd better start migrating.  Since Microsoft will not be releasing security updates for XP that puts your XP systems OUT of compliance.  For businesses not faced with compliance or for the individual its just a matter of how long you want to run an unsecured Operating System.  With malware, viruses, hacking and other malicious activities increasing by leaps and bounds every day, it would seem a bit foolish to hang on to XP.
Personally, I like Windows 7.  Windows 8 isn't as bad as most have made it out to be… at least in my opinion (which is all that counts in this blog 🙂 ).  And lets not forget there are certainly alternatives out there to Windows.  With tons of flavors (distros), Linux has long been an alternative that more tech savvy users like.  However, in recent years there have been some Linux distros that are very user friendly for beginners and even have a bit of an "XP" style to it.  My personal favorite is Linux Mint.  If not for having to use and support Microsoft products on a daily basis I would likely use Mint exclusively.
You've got one year to go. Why haven't you upgraded yet? And what are your plans for XP's Armageddon?